Rat Rod "Deluxe" – Built to go, not for show!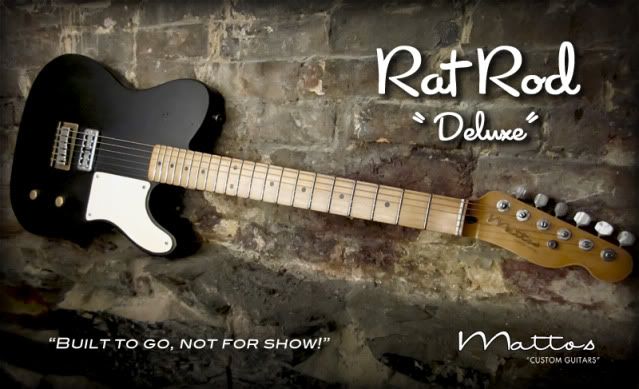 I love the whole hot-rodded Esquire concept of the Fender Custom Shop La Cabronita Especial. (Some early promo photos included the "Esquire" name on the headstock decal.) Starting with the classic Esquire design as a base, stripping it to the bare bones, and then rebuilding it with high performance components really appeals to me. My plan is to kick it a notch further into "rat rod" territory with some custom parts and a few upgrades. My goal is to create a player's guitar with no "authentic & vintage" aspirations and without the high price associated with the scarcity & branding of a Fender Custom Shop Limited Edition.
Body – 1-1/2″ laminated pine like the earliest production 1950 Esquire models. Ultra thin satin Heirloom Wipe-on PolyWhey over black stain to enhance the wood grain or black milk paint for an opaque finish.
Neck – Maple neck & fingerboard with heel truss rod adjustment. Soft "V" with 7.25″ radius, and vintage style frets or optional Chunky "C" with medium tall frets, and 9.5″ radius. Bone nut. Ultra thin satin Heirloom Wipe-on PolyWhey over amber stain. Steel inserts and stainless steel neckplate & bolts for ease of adjustment and disassembly for travel.
Tuners – Standard tuners are Kluson Modern Die Cast (closed back) in nickel with pearloid buttons. Pictured with optional Sperzel Sound Lock open back locking tuners in nickel with pearloid buttons. Great light weight tuners with an elegant design that offer a nice counterpoint to the overall "industrial" aspect of this guitar.
Pickup – Nickel TV Jones Classic Plus has slightly less of that mid-range PAF/humbucker sound compared to the TV Jones Powertron. I think it has a more complex Filtertron-style voice with plenty of punch and gives this single pickup instrument extra character. Especially nice with a low gain overdrive pedal.
Controls – CTS pots:  1M volume, 250k tone with Greasebucket tone circuit. Some people prefer a standard tone circuit but I think the Greasebucket works here.  Switchcraft jack with nickel "Football" jack plate standard. Pictured with optional aluminum Electrosocket.
Bridge – Custom machined solid brass bridgeplate with six stainless steel saddles. Same materials mix, with a little more "rat rod" attitude, as the American Standard Hard Tail on the original La Cabronita.
Knobs – Custom machined solid brass. Domed with heavy knurling.
Pickguard & control cover – Custom cut single ply .060″ white styrene similar to the material used on the 1950 Esquire.
Hardware – Light patina nickel and stainless steel throughout.