"The So-Cal Classic" – Built to go, not for show!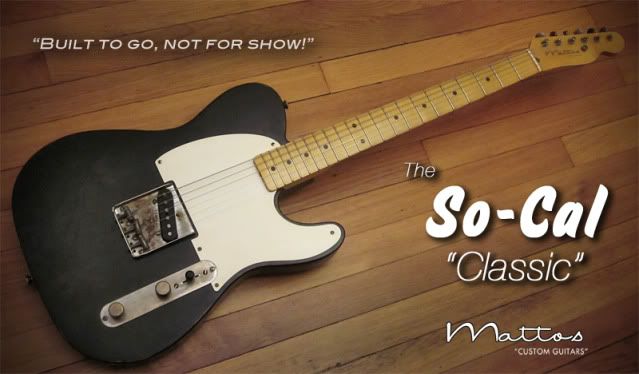 The Esquire's poor cousin fallen on hard times…
My goal is NOT to make a historically accurate, period correct clone, replica, copy, or reproduction. If your interested in something like that check out custom builder Gil Yaron and his amazing 1950 Double Esquire Build. Inspiring and depressing all at the same time!
I do want to apply Leo Fender's groundbreaking design concepts to come away with a guitar that approximates the character of that very first model created for the 1950 NAMM show; a black pine-body single pickup Esquire. Those sales samples are among the rarest of rare Fenders. Even early production Esquires are scarce, most sources estimate that only 50 to 60 original 1950 Esquires were actually produced although there were orders for hundreds. There are so few surviving examples from a period when many design & production aspects were still being worked out that it's almost impossible to nail down a single definitive design. Although this vintage-inspired version looks like an Esquire's poor cousin that spent too many beer soaked nights in a honky tonk I feel I'm pretty much in the sonic neighborhood.
For me the key 1950 Esquire design concepts are:
– Laminated 1-1/2″ thick pine body
– Bolt-on replaceable neck
– One piece maple neck and fingerboard
– Distinctive headstock shape & angle
– 6-inline tuner arrangement
– Patented cold rolled steel bridge plate & saddles
– Single pickup: Alnico 3, 43 AWG PE wire, approx. 9.5 to 10.0K
– Volume and Tone controls with useable 3-position switch
Working from there I've created an affordable version designed for the gigging musician of today.
Body – Laminated 1-1/2″ thick pine inspired by the original 1950 Esquire. The tone seems a bit mellower than ash although I haven't done a true side-by-side comparison. Finished with ultra thin satin Heirloom Wipe-on PolyWhey over black stain which accentuates the character of the wood and feels great.
Neck  – Soft "V" maple neck & fingerboard with heel truss rod adjustment, medium tall frets, and 7.25″ radius. Truss rods ( or the lack of them) were a source of controversy on the originals. Later models included them and many early models were retrofitted. I think the major advantage of being able to adjust a neck outweighs the minor tonal difference of not having a truss rod. Finished with ultra thin satin Heirloom Wipe-on PolyWhey over honey amber stain. Bone nut. A really nice playable neck profile that is very close to the original 1950 era instruments.
Tuners – Kluson Deluxe Safeti-Post tuners. Look and work great; there's a reason they're classics.
Pickup – Custom wound Alnico 3 magnets, 43AWG PE wire wound to about 10.0K. Maybe there are better, more authentic, vintage style pickups available but I'm totally pleased with this version. The sound is distinctly twangy but a bit fuller with stronger mids and slightly less pronounced highs compared to later pickups.
Controls – CTS pots:  250K volume, 250k tone with Greasebucket tone circuit in the middle position. Some people prefer a standard tone circuit but I like how the Greasebucket preserve mids which helps if you favor high gain or use dirt pedals.  Forward position is volume plus the original tone-preset (network of 2 caps + 1 resistor) with different capacitor values for more of a faux neck pickup sound versus the original faux bass sound.  Rear position bypasses the tone control completely. Surprising how taking the tone control completely out of the circuit really does make a difference and results in three truly useable playing positions.  Switchcraft output jack with a standard pressed nickel jack cup.
Bridge – Standard stamped cold rolled steel bridgeplate with custom machined 5/16″ dia. unplated cold rooled steel saddles. The materials and design of this bridge/pickup combination is arguably the heart and soul of the original design.
Knobs – Domed nickel with medium knurl. Pictured flattened style with heavy-ish knurling available as an option.
Pickguard  – Single ply .060″ white styrene similar to the material used on the original 1950 models.
Hardware – Light patina nickel throughout including slotted screws.